Our staff embraces education at every level, gleans inspiration from all walks of life, and are full of love.  We create collaboratively. SHA is a community supported business (hands up Kensington) but we welcome guests from all over the country and beyond.
Our salon gives the stylist opportunities, new challenges, and limitless possibilities.
We firmly believe that beauty shines from within and our job is to release your inner beauty.
We celebrate all great things and people at Sweet Hairafter.
Give us a ring at: 240-800-3064
Our safe Covid19 practices include all staff and guests wear masks at all times, temperatures taken and hands washed upon entry, extra time between appointments for total sanitation of all areas, We have a very limited staff at all times so there will always be plenty of space between you and any other guests! We are able to offer outdoor haircuts on a limited basis.  Fell free to contact us with any concerns or questions.
Founder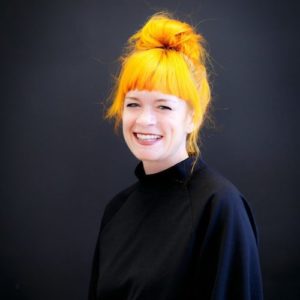 Kylie Hoben
I was captivated by the beauty industry at a very young age. The magic of transformation had me hooked from the first time I witnessed it. With over 20 years in the industry I am now a certified hypnotist able to offer more to my guests. I include a sense of well being and even personal growth to their beauty services.